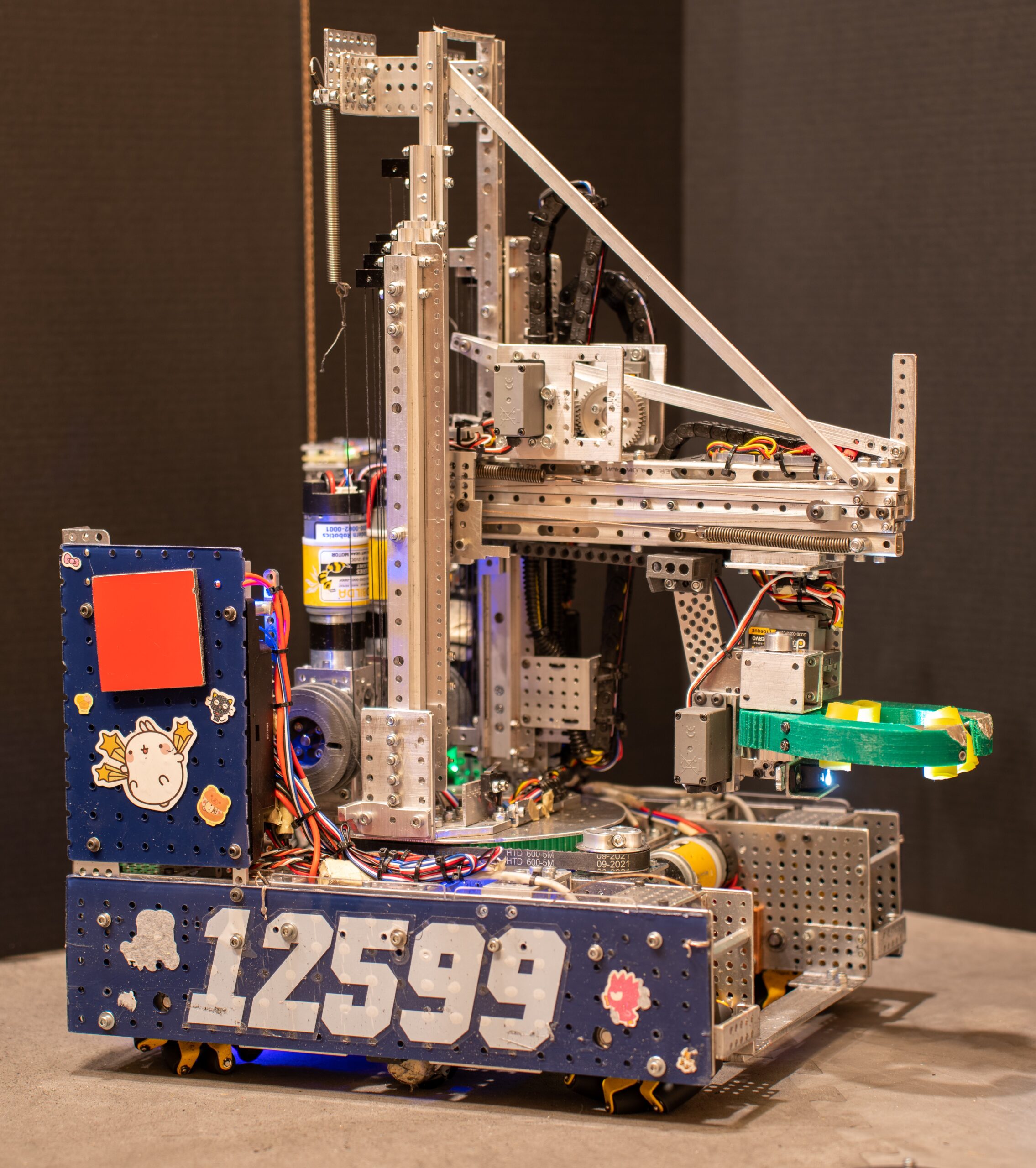 Starting with research projects over the summer, our team began looking into the different options and applications of turrets and slides for FTC robots. Early on our team wanted to use a lazy susan with a custom 3D printed base to give us flexible application as well as full control over how the base interacts with any components attached to the turret. During our research into slide designs and applications, our team was able to meet with Erik Ma, the CEO of bwtLink as well as an FTC veteran himself. Erik Ma talked about how he designed his own slides, and due to their lightweight nature was well as the compactness of his slides, we decided to implement them into our design.
After creating a mockup of these systems on a full 18x18in Mecanum drive, the game for this season was announced, and our team decided to use a claw on the slides, mounted onto our custom turret base, while putting all of these components on a combat 11x16in drive train instead of the full 18x18in.
As we iterated upon the designs of our claw, custom turret base and auto-aligner, we arrived at Stork, our final robot design for this season. As the game progresses however, we continue to test new ideas and work to better our designs in any way we can.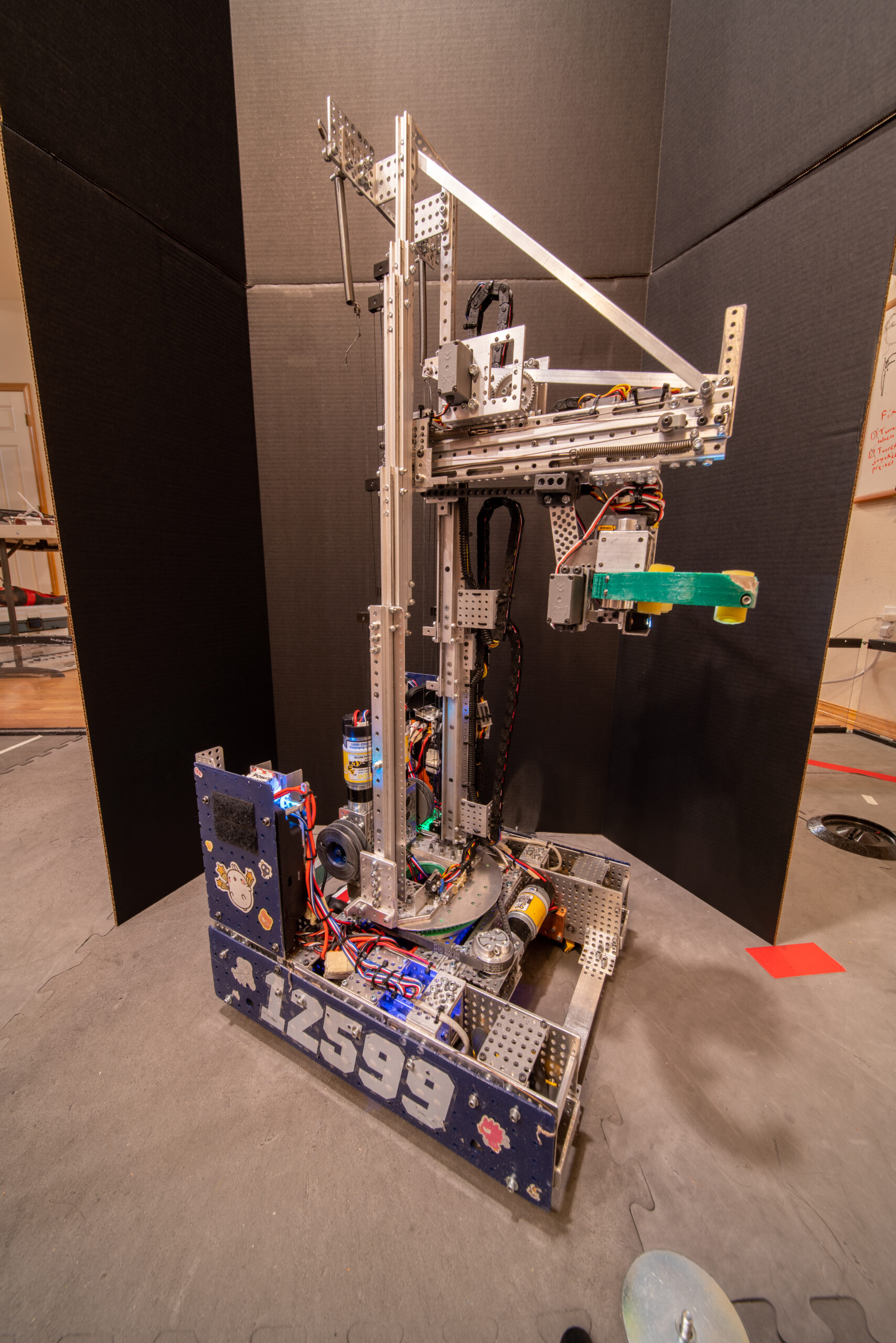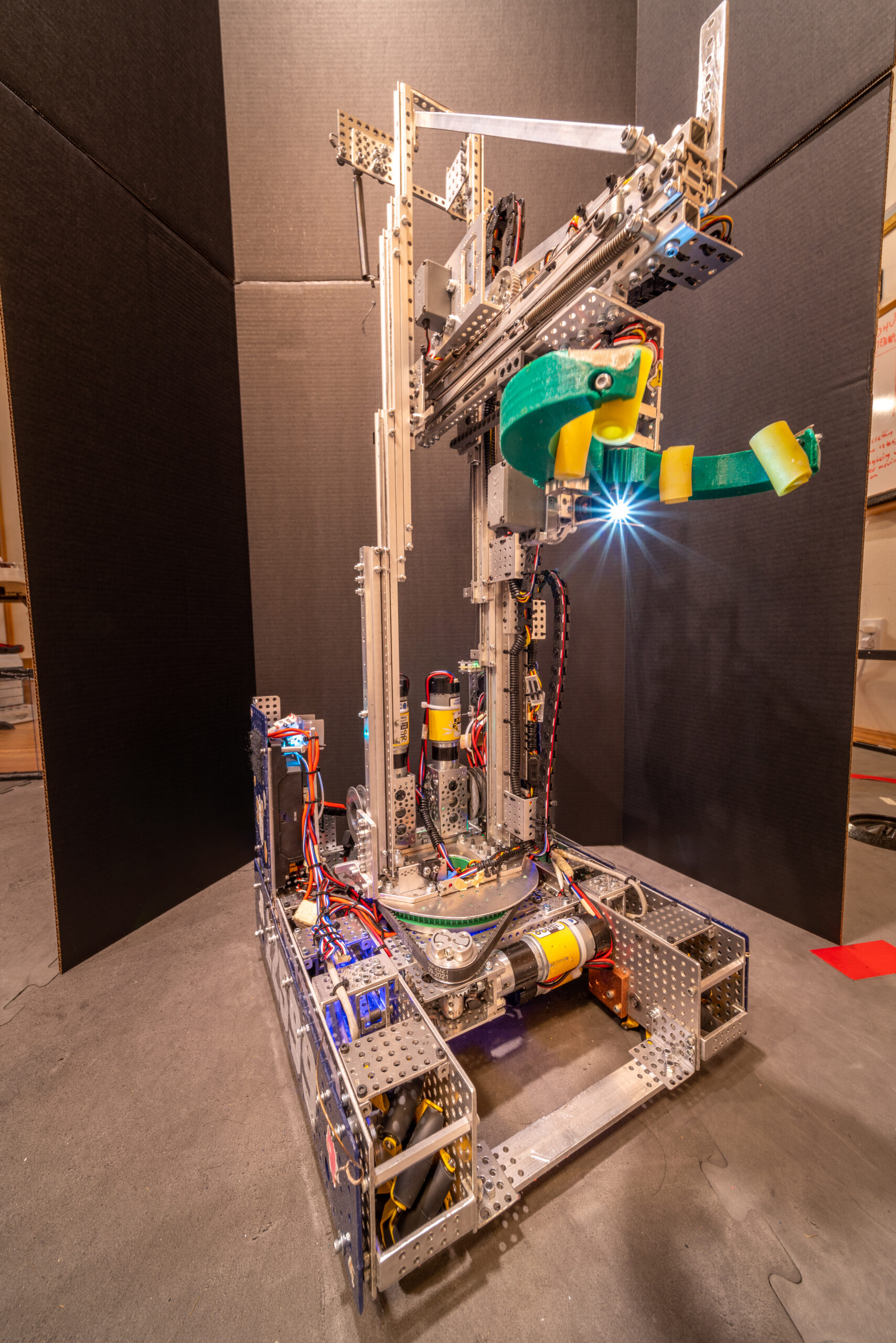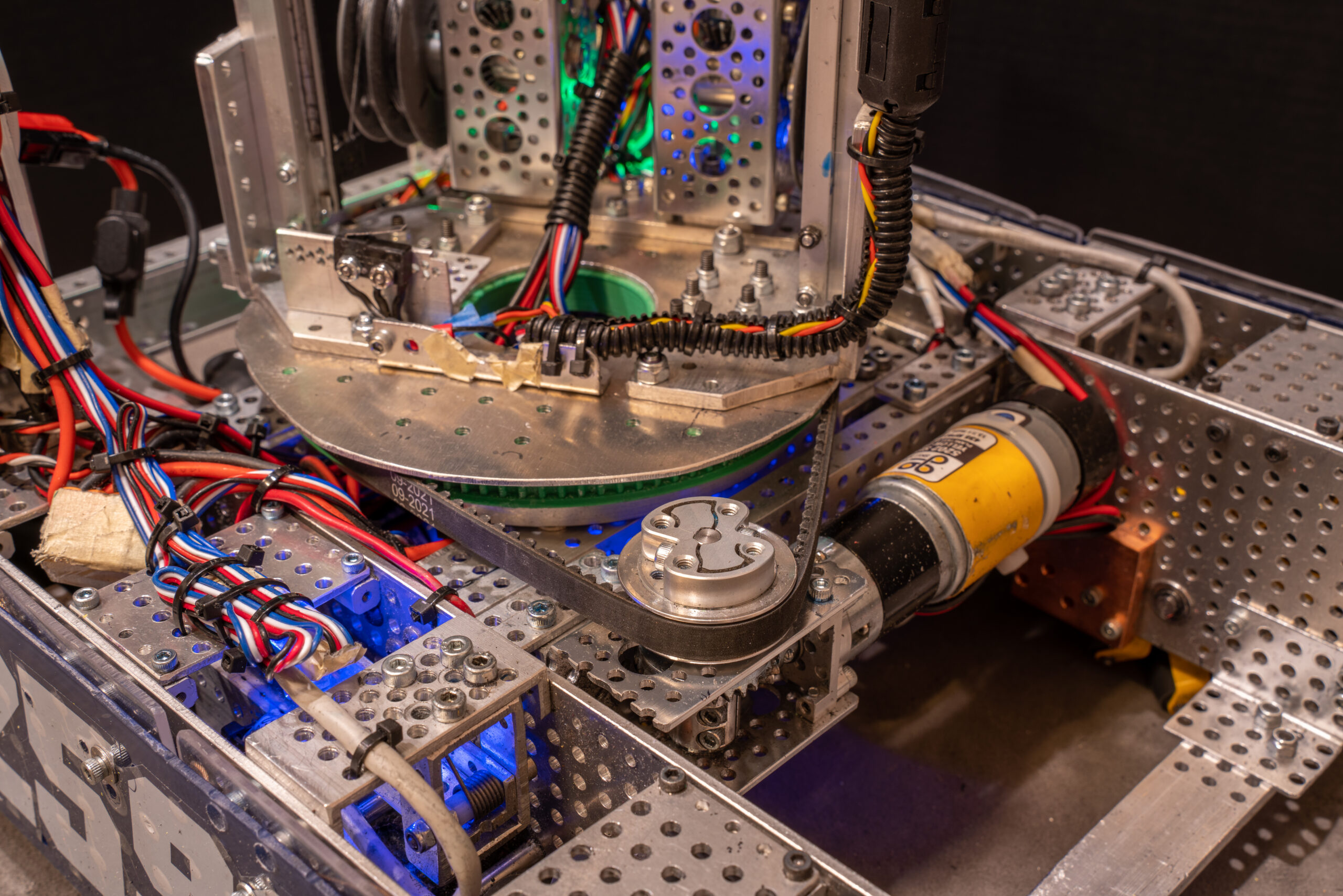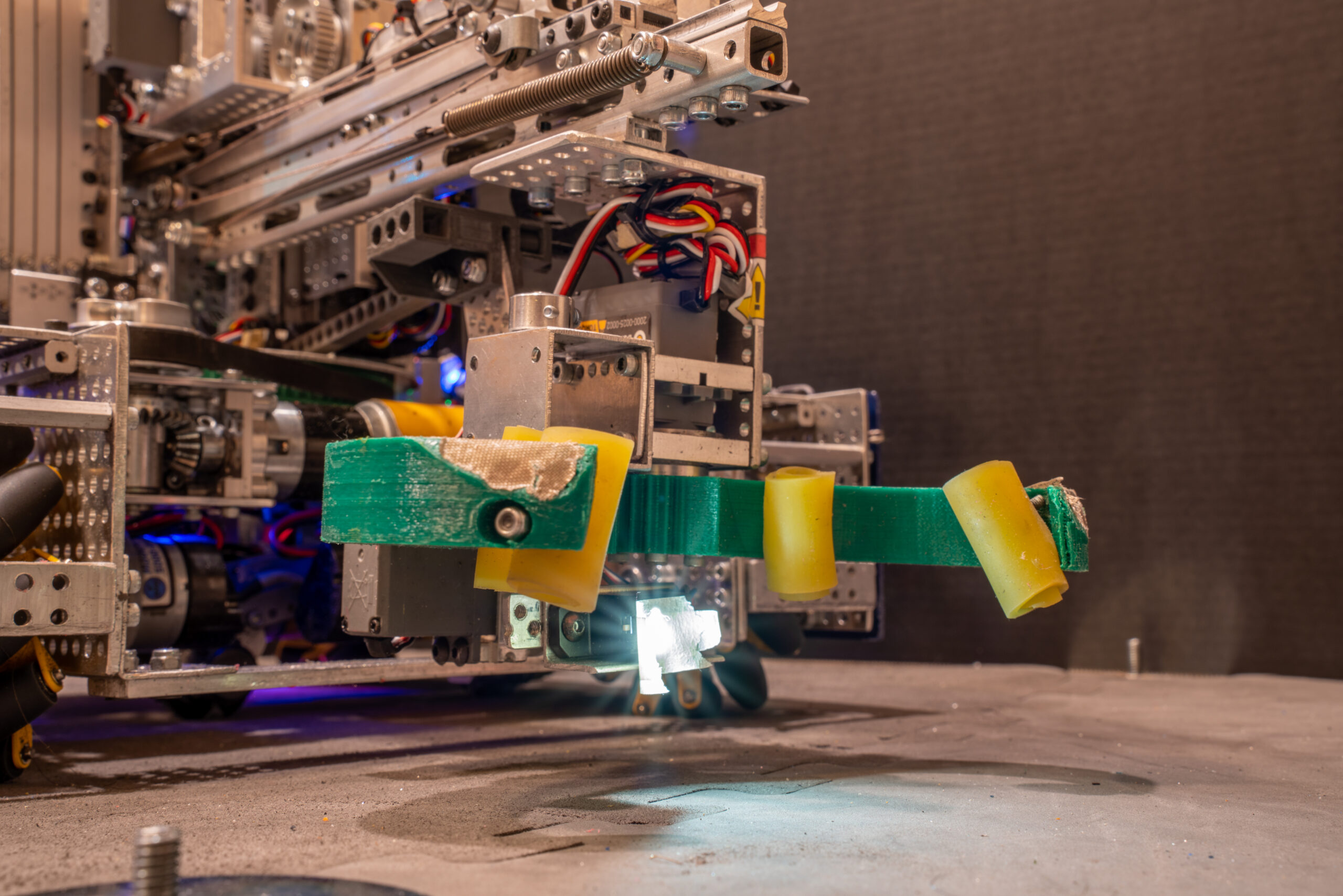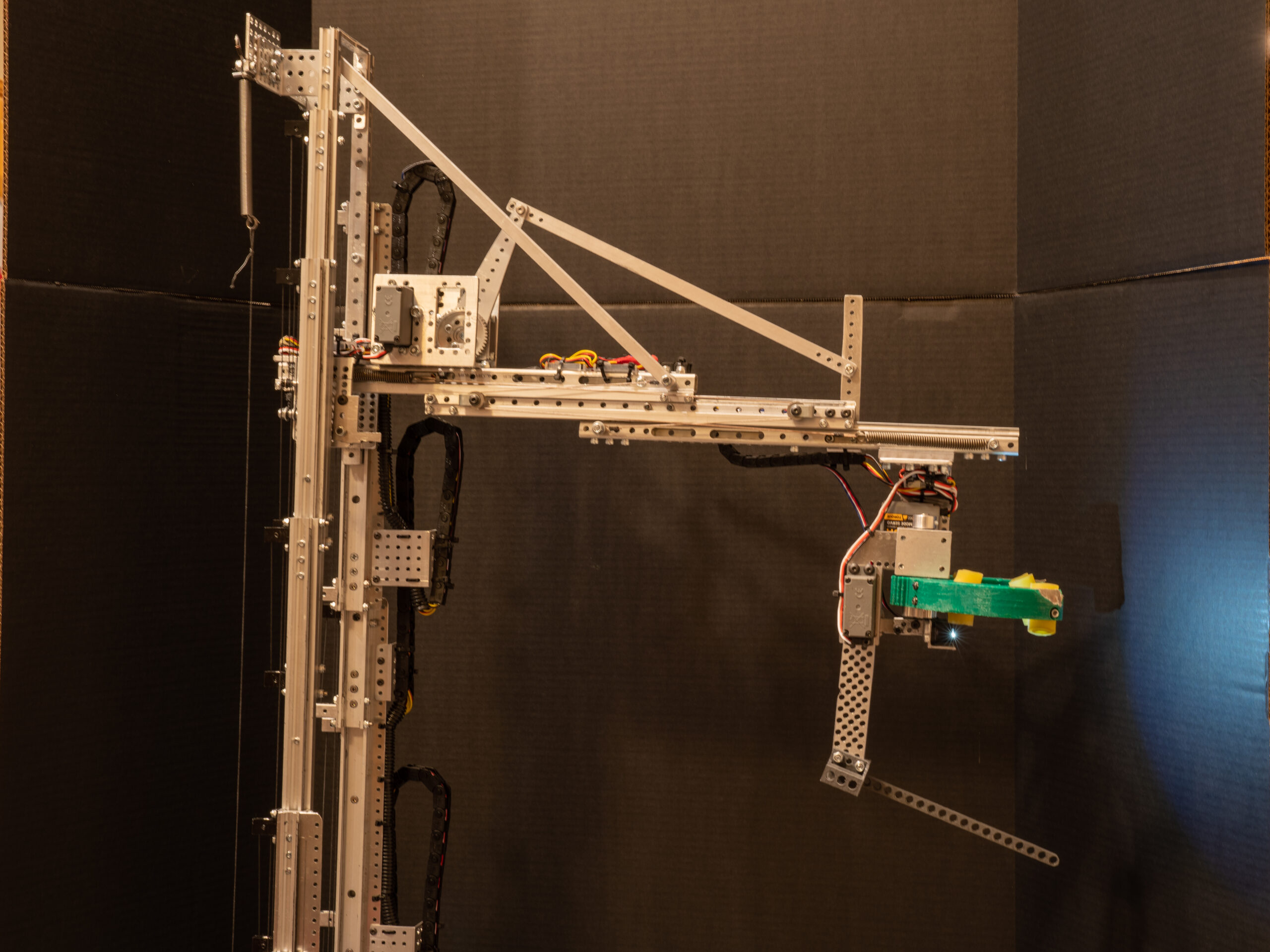 This was the initial design Overcharged had in mind when entering the season. An idea conceived during Robot in 30 Hours led to a final robot that scores high and plays strong.
Sporting the same diagonal intake concept as last time, we've doubled the length of extension while also optimizing our intake with a passive 0-second transition system for the fastest cycle times.
From there, our CAM Popper launches the minerals through our transparent popper chute and to the dumper, which automatically sorts the silver to the silver side and the gold to the gold side.
With our 42lb robot, we used our weight to our advantage with our defensive strategy. We utilized the swerve drive's strafing capabilities to push other robots aside while we collect on the far side of the crater, which we score extremely optimized on. Not only do we score high, but we reduce the score of our opponents. It's the Overcharged way.
What started off as a prototype intake module ended up being a fully fledged robot. Staying up till 3 AM the night before our League 2, we noticed it was essential to add scoring capabilities in order to be somewhat competitive within our league.
We put together a quick robot that sported the intake style we would use for our popper robot. Surprisingly enough, everything worked! Insight v0 had a high score of 300 points in a match, being the highest score in all of Oregon. Below, you can watch all our videos on Insight v0.
This robot sports the signature swerve drive that has been modified for this challenge - more about it here. It uses a diagonal slide system that has a pivot on the top back edge, which allows it to rotate upon contact with the floor. This allows us to go over the crater without the use of a servo to lift up the intake, which many traditional intakes use. Our intake has inspired teams in our league, which is among one of the most successful systems there.
We score using a two-bar mechanism with a pivot on the back. It allows us to score both blocks and balls from the crater side. Finally, we have a passive hanging system that allows for an easy latch and unlatch.
As the direct result of our robot in 30 hours challenge, Overcharged and RevAmped proudly present to you: Curiosity! Building this right after kickoff, we designed our robot to resemble an actual rover, hence the name. We used relatively simple systems paired with Actobotics to make it easier to explain the design to you all through our five-part Ri30Hr update series (which you can check out here).
The concept of our design lies in the simple intake and dump design. In order to make an effective robot in a short amount of time, we designed a robot that could quickly grab minerals from the crater and deposit it from the respective side. To do this effectively, we used a 30:1 six wheel drive train, to climb the crater without slipping and maximize speed.
Our hanger is the most questioned part. It's similar to the Hot Wired latch on Res-Q. We have a servo that drives an axle which contains a spring. This distributes the hanging force on the robot to the spring instead of the servo itself. Pairing this with a strong motor like the NeveRest 60 made it extremely easy for us to hang.
El Tigre is our second robot of this season. We noticed that the intake robots were extremely efficient in this game. We wanted to have a compromise: keep our innovative swerve drive while making room for the intake. The only way we could do this is by having an unorthodox intake system.
Most of these robots used compliant wheels, but we decided to take a different approach, using our tank treads to graph the glyphs. This was raised up using a ramp covered in Teflon and brought up to our flipper's claw, which gripped the glyphs prior to flipping them out for scoring. This was all topped off with a unique bottom scoring relic arm, which consistently scores a standing relic.
Our jewel arm had a trident shape bracing to guide the jewels away from the Cryptobox and to prevent it from reaching under the balancing stone. All of this when put together brought together an extremely compact and capable robot.
This was our initial approach to Relic Recovery. We chose to go for the claw design because it would be much more accurate for our Autonomous, especially with the Swerve Drive.
We used our improved version of Hot Wired's Swerve Drive that we call Swerve v2. It features NeveRest 20 Orbital Motors on the pod itself, which calls for an extremely compact pod. We had a dual motor lift to ensure both sides could lift our claw, which was powered by a four-bar linkage and two REV Servos. This provided us for a circular motion that would push aside other glyphs while gripping extremely accurately.
Since this robot was built during our League Meet staged, we had chosen not to focus on a Relic arm - rather, we focused on prototyping our new robot: El Tigre.